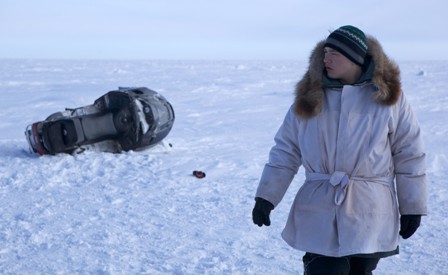 director
screenplay
cinematography
music
editing
cast

Josiah Patkotak, Frank Qutuq Irelan, Teddy Kyle Smith, Adamina Kerr, Sierra Jade Sampson

producers

Cara Marcous, Lynette Howell, Marco Londoner & Zhana Londoner

production

Treehead Films, Silverwood Films

sales
format
SYNOPSIS
Two teenage boys who have grown up like brothers go about their lives in the comfortable claustrophobia of an isolated Alaskan town. Early one morning, on a seal hunt with another teenager, an argument between the three boys quickly escalates into a tragic accident. Bonded by their dark secret, the two best friends are forced to create one fabrication after another in order to survive.
DIRECTOR
Andrew Okpeaha MacLean is an Ińupiaq filmmaker born and raised in Alaska. His short film SIKUMI premiered at the 2008 Sundance Film Festival where it won the Jury Prize in Short Filmmaking and went on to many other awards at festivals around the world. In 2008, he was named one of 25 New Faces of Independent Film by Filmmaker Magazine. In his hometown of Barrow, Alaska, he cofounded the Ińupiat Theater, the first theater company in the country dedicated to performing entirely in the indigenous language.
Screenings
There are not screenings scheduled.