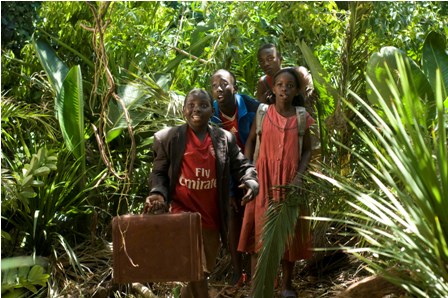 director
screenplay
cinematography
music
editing
cast

Eriya Ndayambaje, Roger Nsengiyumva, Sanyu Joanita Kintu, Yves Dusenge, Sherrie Silver, Emmanuel Jal

producers
production

Pathe Productions, Footprint Films, Link Media Production

sales
format
SYNOPSIS
Three Rwandan children set off to Rwanda's capital city, Kigali, to audition for the opening ceremony of the 2010 World Cup.The children are Rwandan football prodigy Fabrice, his best friend and 'manager' Dudu, and Dudu's little sister Beatrice. They sneak onto a bus... ...the wrong bus. Instead of arriving in Rwanda's capital Kigali, they end up in the Congo.
DIRECTOR
Born in Taiwan, and raised in Yorkshire, the Far East and India, she studied Literature at Cambridge before presenting Singapore's version of 'Match of the Day'. But her roots are in Rwanda, where her mother was born and her grandmother is buried. Her award-winning short We Are All Rwandans – co-written with Ayuub Kasasa Mago – snared the attention of producers Mark Blaney and Jackie Sheppard, leading to their collaboration on this feature.
Screenings
There are not screenings scheduled.